will be ending this Sunday night (PCT).
Click HERE to see all art in one place.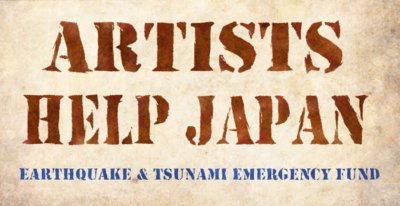 100% of Proceeds to Benefit Give2Asia Earthquake & Tsunami 2011 Fund

Please keep in mind that this is a Charity Auction and not just an art sale. It's not about getting a "steal". It's about contributing to an important cause and getting a "Thank You" in return with original art. These are talented artists that donated 100% of their time, creativity and proceeds for help with the recovery of Japan due to the recent Earthquake, Tsunami and Nuclear Reactor Emergencies. Please bid generously and avoid "sniping". MANY MANY THANKS!
Sincerely, Christina Conway/Curator

Ema are traditional small Japanese wooden tablets left at shrines with an image on one side, and a wish or a prayer on the other. To help Japan relief efforts, spread awareness, support and hope, artists are creating ema with their own positive heartfelt imagery for auction to benefit Artists Help Japan Earthquake and Tsunami Relief Fund at Give2Asia.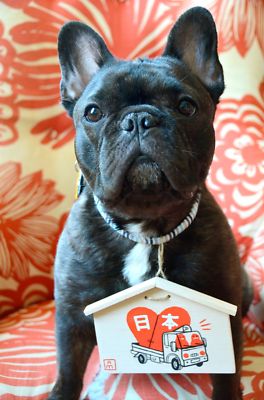 Chubu modeling donated ema art "Love Delivery Truck" by Aaron Meshon


Taking inspiration from these simple, traditional and specifically Japanese gestures of wish-making/prayers this auction allows everyone of any culture, religious background and dynamics a similar talisman, using the "if you will it, it will be" thought belief. A small work of art for a big cause.

One side has been left blank for its new owner to write his or her own wishes or prayers.

Bidding begins Sunday, April 3, at eBay Giving Works for Give2Asia. Bidding for each ema is open for seven days. More ema artwork will be added through April 20.



PARTICIPATING ARTISTS

Aaron Meshon

Allison Sommers

Amy Crehore

Amy Huddleston

Axelhoney / Melissa Anderson Contreras

Celëne Petrulak

Fawn Fruits / Daniel Lim

Jeya / Jeni Yang

Joel Nakamura

Kelly Vivanco

Lilly Piri

Lorena Alvarez

MALL / May Ann Licudine

Yoskay Yamamoto

X03 / Zoë Williams

Harmony Gong

Audrey Kawasaki

Kevin Cassidy

Florence Pacho

Mar Hernández

Ken Garduno